How to add value to your property
Whether the property you own is an investment or a family home, if you're thinking of selling it soon, you're probably also considering boosting its value. There are lots of small improvements that could help you sell your property faster, but if you seriously want to increase its sale price, you'll need to do a lot more than just paint a few kitchen cabinets.
Our graphic below reveals the most valuable areas of the home to renovate – giving you an idea of the rooms you should invest in.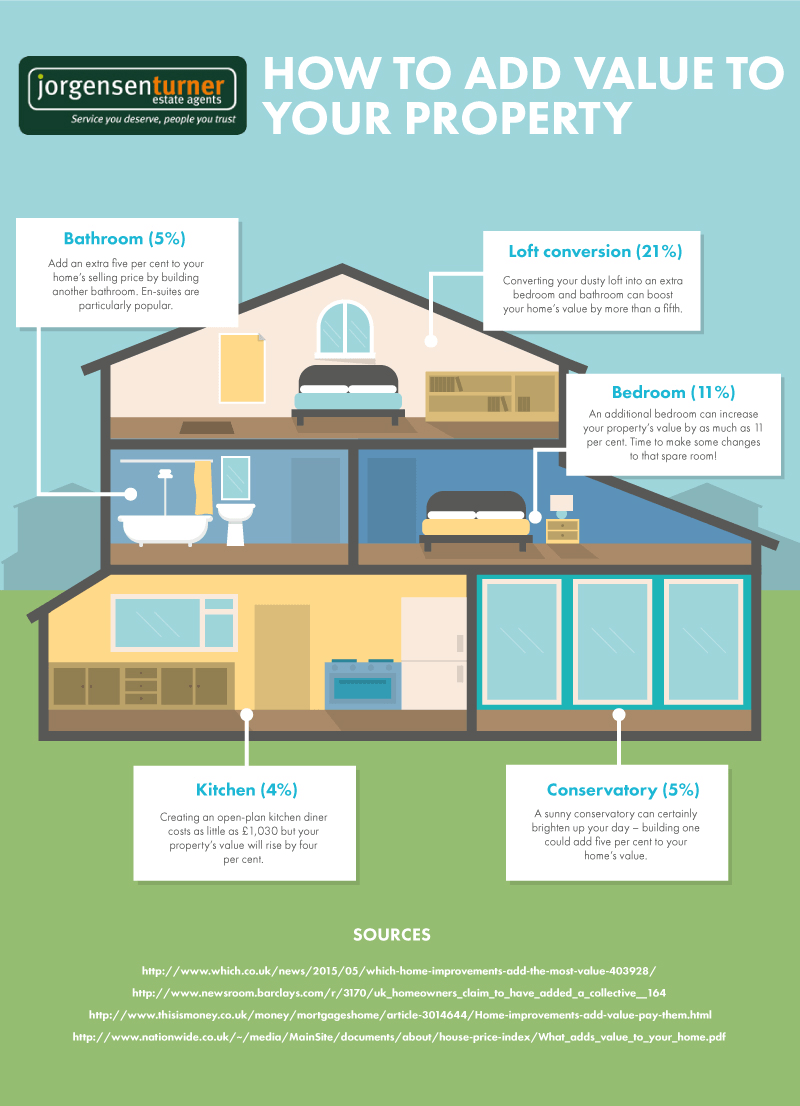 Naturally, the changes you make to your property will entirely depend on your budget – if you only have a couple of thousand pounds to put towards renovations, then stick to small improvements, remembering that you only have one chance to make a first impression! When it comes to kitchens, it's best to avoid large-scale renovations, as they can be costly.
If you have a larger budget and are able to extend your home to include an additional bedroom and bathroom, your property's market value could rise by around a fifth. Adding ten per cent extra floorspace to a house adds around five to the asking price, as does an extra bathroom, while another bedroom will increase your home's value by 11 per cent.
Our top takeaway tips:
Get rid of the coloured bathroom suite – 62 per cent of homeowners name avocado-coloured bathrooms as their number one turn-off.
Don't paint your home a crazy colour – 37 per cent of homeowners state lime green is their least favourite external colour, following by purple (20 per cent) and orange (18 per cent).
Never bite off more than you can chew – taking on building work beyond your capabilities will resort in all sorts of problems and may make your home difficult to sell.
Ask a trusted estate agent for advice – they will understand what the current trends are and what buyers in your area are looking for.
Of course, none of the renovations suggested above are guaranteed to add that much value to your home - they are just a rough estimation. The financial impact any work will have entirely depends on the current value of your home, what properties are for sale in your area, who your target buyer is and the state of the housing market, among other things. If your sole goal is to increase your home's value, then make sure you seek some advice first.